San Kai
46 Plassey Street
Penarth
Vale of Glamorgan CF64 1EL
Phone: 029 2070 8357
Website: http://www.sankai-restaurant.com/
Closed Mondays
San Kai is something of a hidden gem in Penarth which already has its fair share of well-known restaurants including The Custom House and the new
Pier 64
at the Marina and The Fig Tree on the seafront. It's therefore easy to overlook San Kai which occupies an unobtrusive corner of Plassey Street in the town centre. At first glance one would assume that it was just another Chinese takeaway. It does offer a takeaway service but this tiny restaurant offers much more than that.
Promising that it is Penarth's only sit-down Chinese restaurant it also offers some delicious Thai dishes and Japanese offerings that rival those I've had at Canton/Roath's Ichiban and City Road's Tenkaichi. It's usually the Japanese that draws my partner and I to San Kai every few months. The place itself is housed in a former corner-shop and is intimate without meaning you have to listen to every word the couple seated next to you are saying. It's decorated with colourful lanterns and has the unique distinction of playing karaoke videos of pop classics in the corner. On weekends, the opportunity to sing karaoke presents itself although there's no pressure to do so and this doesn't happen until very late into the evening. Having visited 4 times, I've never actually seen anyone partake in this! The staff is also friendly and efficient; the owner remembers you and details about you and visiting is always a hugely welcoming experience.
What, then of the food? My partner and I are creatures of habit and almost always opt for the cucumber (£3.50) or California maki (£4.50) from the sushi menu and the Ebi Tempura (prawn) (£5.50) or vegetable tempura (£4.95). The sushi is always fresh and the vegetables crisp and textured. The tempura is equally good with a light crisp batter and huge prawns. On our last visit we added some Nama Hotate (breaded scallops) to the mix which, at £5.95 were a little more pricey than our usual choices. However, they were a revelation; meaty and well cooked and served with a spicy sauce and we'll certainly be ordering them again. There's also a complimentary bowl of prawn crackers and sweet chilli sauce if you decide to espouse starters altogether.
For the main course I usually plump for some form of udon dish – so far I've tried the chicken (£7.95), seafood (£9.50) and pork (£7.95) options and all curried favour although the seafood dish was a little too heavy on salmon for my tastes. The other half always choses the spicy pork yaki soba (£7.95), so convinced is he of its quality. All the noodle dishes are plentiful and full of flavour and good value for money .
Pork yaki soba
Yaki udon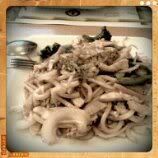 In the past, we've also shared the set Chinese menu for two which offers mixed hot starters of spare ribs, prawn toasts, chicken satay, spring roll, deep fried squid) and mains of sizzling beef in satay sauce, Kung Po pork, chicken in honey and lemon, and egg fried rice all for £13.95 per head. This was also really impressive and offered more food than the two of us could reasonably consume without losing flavour and quality. It's not the Chinese menu that draws us back to eat out at San Kai but we'd certainly try it again or order it to take-away. There is also a more elaborate set menu for £19.95 for those with even bigger appetites.
Overall, a meal in San Kai for two people, with starters, noodle main courses and two drinks each will set you back around £20 a head. If you're in Penarth it's well worth a visit. But don't tell *too* many people about its secret…