I've recently returned from two wonderful weeks in Florida, doing the theme parks and generally having a brilliant time. Food was, of course, a key part of the trip and although I removed my foodie blogger hat for much of the time there were a few thoughts I wanted to share and some places I wanted to recommend for any intrepid traveller heading to Orlando any time soon. This post focuses on the food experiences within the parks themselves, primarily Disney. We sampled a range of food from the exquisite in EPCOT's Coral Reef (see below) to the truly dreadful (giant mutant turkey legs sold for $10 from carts). Here, I share some of these experiences…
San Angel Inn, EPCOT, World Showcase
Website: http://disneyworld.disney.go.com/dining/san-angel-inn/
The San Angel Inn, based in Mexico within EPCOT is one of many highly recommended restaurants within World Showcase. The big names currently are the always highly mooted Chefs de Paris in France and the more recently acclaimed Le Cellier in Canada. As fans of Mexican cuisine, however, we opted for this experience and were not disappointed. Whilst the counter service option in Mexico churns out the typical nachos and chips we would expect, the San Angel offers an entirely different Mexican cuisine experience. With many menu items taken from its parent restaurant the San Angel in Mexico City it seeks to offer a more authentic taste of the country than the fajitas, tacos and burritos offered in the UK might suggest.
Having a close friend from Mexico who opened our eyes to dishes such as Green Nachos, Sopa di Lima and other bona fide culinary delights, we were pleased to find that our main courses of Sirloin con Chilaquiles (Grilled sirloin with chilaquiles (layers of fried corn tortilla, green tomatillo sauce, topped with queso fresco, onion, and sour cream) and served with black refried beans reminded us of our friend's cooking in the best possible way. The steak was perfectly cooked and the accompanying tortillas added a subtle spice and warmth to the dish. My Dad's Enchiladas Verdes con Pollo (Corn tortillas filled with pulled chicken, covered with green tomatillo sauce, topped with sour cream, queso fresco and onion) and my Mum's Pollo a las Rajas(Grilled chicken breast served with a cream sauce of red peppers and onion strips, poblano rice, and queso fresco) looked good and received positive feedback. The steak dish cost $23 whilst the two chicken dishes were priced at $16-$17.
For those on a budget there is a set lunch which costs $25 for 3 courses. The San Angel is not a cheap experience (even at lunchtime when we visited) but it is good value for what you get and is also incredibly romantic, being located inside but under a permanently starry sky. It's also one of the only places we came across that offered what we have come to know as 'proper' Mexican cuisine.
Coral Reef, EPCOT Future World
Location: The Seas with Nemo & Friends Pavilion
Website: http://disneyworld.disney.go.com/dining/coral-reef-restaurant/
Another of EPCOT's prime eateries is the magnificent Coral Reef, a seafood restaurant whose big lure is that the dining room faces onto the giant aquarium that forms part of the theme parks' The Seas exhibit. The chance to watch fish, turtles and other underwater inhabitants whilst you eat seafood could seem somewhat perverse but the restaurant is actually a relaxing and impressive spot. We couldn't have been sat further away from the aquarium, sadly, which since we booked online the very day that bookings for our date became available was disappointing. Once wonders who you have to bribe at Disney to be sat right in front of the giant fish tanks! Service, however, was efficient but friendly and the food was out of this world. Across the group we opted for lobster soup with tarragon and brandy ($7.99), fish tostadas with lime ($8.99) and crab cakes with tropical fruit salsa ($11.99), and each dish was a triumph, offering both the flavour of the sea and some other complementary tastes. The lobster soup was rich and distinctive whilst the tostadas were both textured and soft. The crab cakes were so nice I didn't get a sample but am assured that they were equally delicious.
Fish tostadas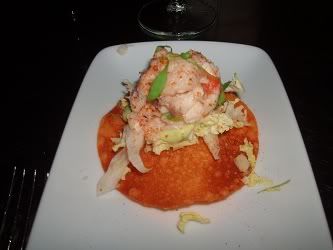 For our main courses we all selected different types of fish to sample, choosing Lobster Ravioli with Rock Shrimp, fresh Tarragon, and Lobster Cream ($26.49), Seared Rainbow Trout with Warm Salad of White Beans, Arugula, Tomatoes, Crispy Bacon, Aged Balsamic Vinegar, and Brown Butter ($19.99), Seared Scottish Salmon with Black Rice, Fennel, and Cardamom-Cashew Butter ($22.99) and my own selection of the Grilled Mahi Mahi with Rock Shrimp, Hearts of Palm, Jasmine Rice, Cilantro, and a Coconut-Lime Sauce ($24.99). Having never tried Mahi Mahi before I was impressed, it's a firm fish that was more than able to withstand the other flavours on the plate, working especially well with the coconut and lime combination. There are steak and chicken options on the menu but, in a place specialising in seafood, it seems remiss to try anything else. The menu offers wine recommendations to accompany your chosen main course and my Riseling did work well with the mahi mahi. I'd suggest trusting the recommendation even if, as I found, the wine is not something you'd normally chose to drink.
Mahi mahi
Salmon (front) and trout (back)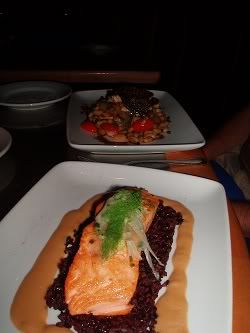 Lobster ravioli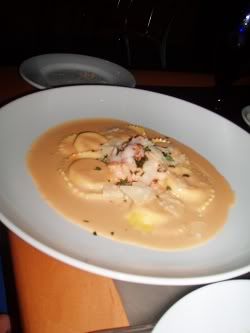 Despite being full of wonderful fish, I forced myself to try the Baileys and Jack Daniel's Mousse which came with a Caramel Crisp ($7.99) whilst my Mum opted for Cheesecake Napoleon served with Berry Compote ($7.99). The mousse was rich in flavour, both creamy and with the slightly sharp cut of whisky through it whilst the cheesecake was, sadly, devoured before I could try it.
Coral Reef is at the upper end of what you might pay in a Disney restaurant and I was deeply disappointed in our table given the promptness of our booking but this didn't tarnish what was otherwise an unusual and interesting dining experience.
Portobello, Downtown Disney
Walt Disney World® Resort
1650 Buena Vista Drive
Lake Buena Vista,
Florida 32830
Phone: 407-934-8888
Disney line: 407-WDW-DINE
Wesbite: http://www.portobellorestaurant.com/
I heard about Portobello in a guidebook, urging the Disney visitor not to overlook it since it's located near the Fulton's Crab House restaurant, impressively located on an old steam boat, and the T-Rex Café with its gaudy yet fun giant dinosaur skeletons luring you in. Portobello, on the other hand, is a relatively unassuming neutral building with little gimmick to attract the busy tourist as they navigate Downtown Disney. Convinced, however, by the recommendation we visited on our final night and experience what, for me, was a definite tie with Coral Reef for best meal of the holiday. Portobello offers Italian dishes with a modern twist although many classics can also be found on the menu. As with many eateries on Disney property, the place was heaving with people but we never felt crowded or rushed despite it also being a busy Friday evening.
Two of us selected starters; I went for calamari, whilst the soup was also selected. The calamari was plentiful but not overwhelming as many American platefuls of food can be, and was served with a tart tomato basil sauce. My main course was also delicious, black linguine with Florida rock shrimp and a sauce of garlic, tomato and asparagus. The flavours were unusual together since this was my first experience of black pasta, but the textures and tastes worked well together. Am definitely buying myself some black pasta to experiment with at home. My partner's Chicken Farfalle of Wood roasted chicken, snow peas, asparagus, tomatoes, parmigiano cream sauce was creamy but not cloyingly rich whilst my parents choices of Ravioli Gigante (ricotta and spinach filled pasta, tomato, basil, toasted garlic) and Penne Bolognese (in which you could really taste the flavours of both the beef and pork) offered further evidence of some of the excellent dishes on offer. Alas, too stuffed for dessert, the total bill for 2 starters, 4 mains and 4 drinks was, with currency conversion, under £80. When the bill arrived, we felt a little like we had robbed the place.
Black linguine & rock shrimp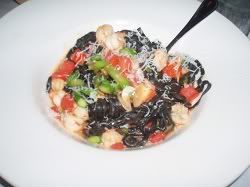 Chicken farfalle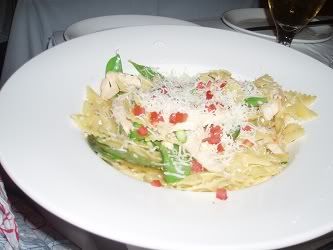 Raglan Road Irish Pub, Downtown Disney
1640 E Buena Vista Drive
Lake Buena Vista
Florida
32830
USATel: Work (407) 938-0300
Fax: Fax (407) 938-0310
Email: hello@raglanroad.com
Website: http://www.raglanroad.com/
Whilst the familiar dishes of bangers and mash, fish and chips, and Irish stew looked tempting, we only had drinks at Raglan Road. It's a huge monolith of a pub, boasting an authentic bar that was shipped to America from Ireland and is a lively and bustling place to stop for a drink. It's expensive as all Disney bars are at around $8 for a 175ml glass of wine but a nice place to watch the world go by from. It's also attached to Cooke's of Dublin, a sit-down or takeaway fish & chip shop which smelled divine but, alas, was not something we had the chance to experience. Next time, though…
Yak & Yeti Café, Animal Kingdom
In the theme park homogeneity of burgers, hot dogs, fries and doughnuts this little fast-food outlet, located in the Asia part of the park, brought a smile to all our faces. Mass-produced it may still be but I've never been so happy to be faced with options such as sweet & sour chicken with boiled rice or orange beef. The Yak & Yeti restaurant is also supposed to be excellent and it's definitely on my to-eat list on the next trip.
Giant turkey leg carts, Various Disney Parks
Carts that sell turkey legs should have been avoided at all costs but curiosity got the better of me on our final day. If you find yourself feeling similarly curious, please don't. Ten dollars would have been better spent on anything other than this greasy, salty-but-otherwise-tasteless lump of meat, the size of which borders on the absurd. Avoid.