Greyfriars Road
Cardiff, CF10 3AL, Wales
United Kingdom
T: +44 (0) 2920 111 111
F: +44 (0) 2920 111 112
http://www.parkplazacardiff.com/restaurant__bars/
http://www.lagunakitchenandbar.com/afternoon-tea.php
I'm a big lover of the classic afternoon tea and have sampled the one on offer at St David's Hotel's
Tempus at Tides
on a few occasions. Judging by my recent experience of the Christmas Afternoon Tea on offer at the city centre's Park Plaza hotel, however, I think I may have a new favourite.
The Park Plaza isn't the only Cardiff establishment offering a festive twist on the traditional tea. The Hilton also has a similar experience over the Christmas season, which has been reviewed by Ur Last Mouthful
here
. We chose the Park Plaza, however, purely on an image they posted on their Facebook page - the power of social media is still strong!
We were lucky enough to be seated by the roaring fires in the lobby of the hotel - the restaurant and bar areas were fully booked with Christmas lunches and parties. The lobby proved to be an oasis of calm, however, and we were well looked after by the professional and friendly staff. The teas on offer included standard English Breakfast and Earl Grey but I opted for the festive choice of a cinnamon infused blend which was subtly flavoured but tasted perfectly Christmassy. We also decided to opt for a glass of champagne with the tea, raising the cost from £15 to £25 each. Still, we reasoned, it's Christmas!
The food itself was lovely and, as with many afternoon teas, almost overwhelming in volume. There were salmon and cucumber sandwiches, as well as egg and cress, cucumber and cream cheese and the festive twist of turkey and cranberry. The sandwiches kept coming for as long as you wanted and they were well presented and tasty.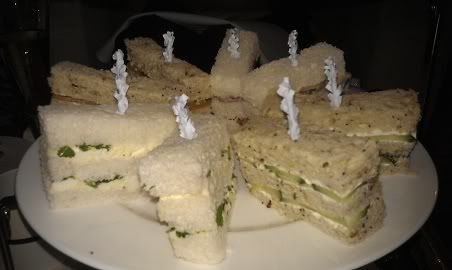 The bottom tier offered freshly baked scones (still warm from the oven) with jam and cream, as well as delightfully firm but moist Welsh cakes. The standout of the tea was, however, the mince pie - possibly one of the best I have ever tasted. Crumbly pastry with a light mincemeat filling, I could have eaten another two and taken a half-dozen home with me.
The final touches were two tiny festive macaroons, a large slab of Christmas cake, and a generous slice of cherry cake. The final tier was too much, sadly, and we reluctantly abandoned the cakes. The macaroons, however, were gorgeous; full of clementine flavour and a good balance between the crunchy outside and the smooth filling.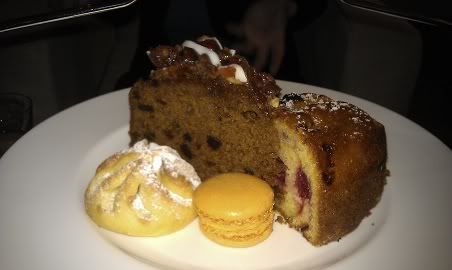 Overall, we were really impressed with what the Park Plaza was offering. Sat by the fire, in front of the Christmas tree, the whole afternoon put us resolutely in the Christmas mood (as did the sight of slightly inebriated Christmas party-goers in their paper hats). If you have time and can get a booking, try to go along before Christmas. It'll certainly make you feel festive. :)