MasterChef Live
11-13 November, 2011
Olympia London
http://www.mastercheflive.com/
Like many people with more than a passing interest in food, I am a self-confessed Masterchef addict. I'll watch any version; the normal one, the celebrity one, the Professionals, heck, I've even enjoyed John Torode praising spag bol on the Children's Masterchef. It follows then, that I've wanted to visit Masterchef Live for a few years but have never quite managed it. This year, however, my trusty friend
Project: Goddess
and I set off for Kensington Olympia armed and ready for a day of foodie fun.
Offical publicity shot of day one
The basic ticket cost around £20 but we also signed up for sessions in the Chef's Theatre where Gold tickets set you back a tenner and the back rows a fiver. Our first session was with Michel Roux Jr, a man we both love to watch on the Professionals. His recipe of gnocchi with wild mushrooms looked delicious and easy to replicate. He was interesting and informative as well as being much funnier in the flesh than he is allowed to be on Masterchef where he is positioned very much as a man to be feared.
Waiting for Roux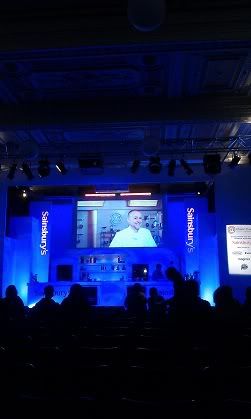 At the end of the half hour slot, it was announced that Michel Roux would be doing a book signing which led to an enthusiastic stampede of foodie fans rushing to purchase copies of his 'Cooking With the Masterchef' tome. Meeting him was a true delight, he's genuinely a lovely bloke and this was the undoubted (and unexpected)highlight of our day.
After this, we tried out the Masterchef Restaurant Experience which offers the chance to sample small plates of dishes from a range of restaurants. Firstly we tried the Cola-Braised Pork Belly, Carmelised Celery, Fondant Squash, Roasted Baby Turnips, Shelled Peas, Miso Mustard and Dashi Sauce from 2011 Masterchef champion Tim Anderson which was flavoursome and well cooked.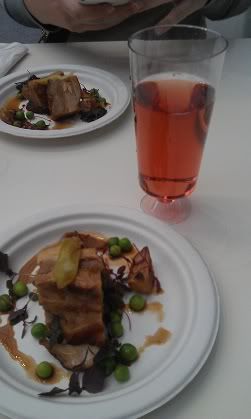 I then tackled a Cape Sante in Padella – pan fried scallops served in their shell with lentils de Castelluccio, pancetta, red chilli, parsley and chopped wild rocket (5DC) from Theo Randall and was especially thrilled to see Randall himself cooking away in the tiny kitchen! Project Goddess sampled an apple crumble and custard from Gregg Wallace's Wallace & Co and reported it to be delicious, as you might expect from a man so famously in love with puddings. The restaurant experience isn't cheap - the dishes we tried were 5 DC (dining currency) each which equates to £5 of normal money, and the accompanying wines are also priced at 5 per glass. It's a fun experience though, allowing you to work out what types of food you want to try, and which restaurants you'd like to add to the do-to list.
Scallop by Theo Randall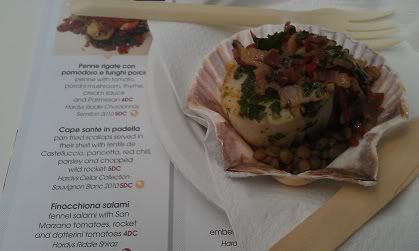 Our second chef's theatre session was a cook-off between Tim Anderson and 2010 Professionals winner Claire Lara. It was hosted by Gregg Wallace and John Torode and characterised by a great deal of banter between the two. Claire cooked a red mullet dish with potatoes and braised lettuce whilst the ever-quirky Tim produced an edible hen's nest (!). He was judged the winner and we were just disappointed that we didn't get to try either of the dishes for health and safety reasons.
After this we wandered the veritable banquet of stalls and suppliers on offer, sampling a good range of cheeses, wines, liquers and oils. It's tempting to spend hundreds of pounds on the produce but I came away with some artisan chocolate, some Shropshire blue cheese, and some banana and garlic chutney from The Garlic Farm for the other half. You can easily while away several hours on the producers' stalls, and if you're in the market for gifts it does offer some unusual options.
Our final chef's session was a cook-off between John and Gregg. Both made fairly predictable dishes - John went for beef and Gregg a pudding, knocking up a fabulous looking Christmas Yule Log. Like the earlier session, they were hilarious, keeping the audience entertained whilst also offering some good tips on how to cook perfect steak or whip up the ideal butter cream.
The show at dusk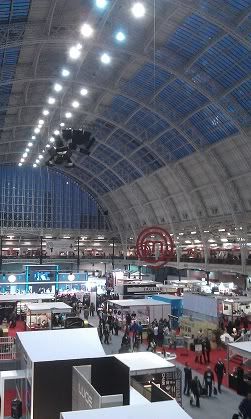 As the day wore on we began to flag a little but found the Masterchef demonstation stage to be a little oasis of calm. At this point, many people were starting to leave but we enjoyed demos from recent Masterchef contestants Sara Danesin, who created a venison and chocolate dish, and James Perry who produced some interesting looking chocolate spring rolls. Feeling a little peckish again, I tried a Rice Noodle & Beef Salad with Mint & Peanuts from the stand from John Torode's Smiths of Smithfield restaurant and found this full of fresh mint and crunchy nuts.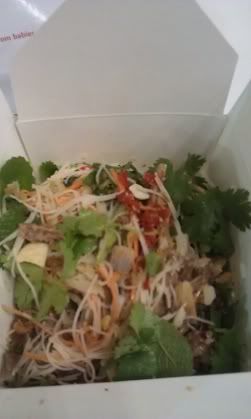 Overall, we thoroughly enjoyed the day and were especially impressed with how much contact you can have with the stars of Masterchef. Admittedly, whilst John and Gregg and possibly Michel Roux Jr are recognisable to the wider public, not everyone would be as excited as we were to see Tim Anderson or Alexis Gauthier walking around or to have a photo taken with Monica Galetti. Throughout the day we caught sight of these and others including Michael Caines, Nick Pickard, Andi Peters, Jackie Kearney, and Tim Kinnaird and even John Torode was freely roaming around, giving us a cheery "hello" at the book stand. If you know who all these people are then you can see why we had such a good time. If you don't, then I think you'd still enjoy the live shows, the competitions and the food stalls.
We're already planning next year's trip and maybe this will inspire some of you to go along as well.
PS - Apologies for the cheesy title but I couldn't resist.